The 10 rules for a perfect selfie
The 10 rules for a perfect selfie? Simple simple question: what is the most frequent type of photo in the year 2021? Don't think too much about it. If you haven't already received the answer, I'll give it to you. It's the selfie. We are practically surrounded by people of all ages who, thanks to the front camera of their smartphone, take new photos of themselves every day to share with their contacts on Instagram, Facebook, Snapchat and Whatsapp. And it's not a question of age, don't be fooled. Whether you are a teen or not exactly a first-hair like myself, there is no fear that it will hold up, sooner or later you too will not give up your selfie. So, as a photography enthusiast, what I say is: since we have to do it we try to do it well, and for this I have put here in black and white 10 rules that will help you to create perfect selfies.
Watch your eyes
Do you believe that even today 90% of people who take selfies look at the screen of their mobile phones and look at themselves? The result, as we well know, is a non-centered gaze. That is, we are photographing ourselves but our gaze is looking elsewhere. This happens because you are not looking at the smartphone camera. So, first rule, do this to your next selfie: take the position you prefer, settle down looking at the smartphone screen but before pressing the shutter carefully fix the front camera of the smartphone (usually it is at the top right), that's where the photo starts. You are ready? Cheese!
The best side
Did you know that we are not as symmetrical as we think? That's right already. The right side of your gaze, partly due to the shape of the face and partly due to the effect of the hairstyle, is often very different from the left one. It is up to you to understand which is the best angle to recover yourself. For example, you can choose (and I turn to men) a low-cut, cropped angle that erases the signs of an early receding hairline. Or the one that least marks the wrinkles of the face (and here I am addressing men and women alike). This is a job that you can do in front of the mirror even if, remember, how you look in the picture is not like you look in the mirror because the camera tends to deform some features compared to the natural one. Once you find the side that convinces you the most, always try to recover from that perspective. You will thus have better selfies but also more recognizable because they are homogeneous with each other.
There is no trick
If you are convinced that the trick is all in the success of a good selfie, you are out of the way. It is not so. Don't imagine how many good personal photographs come out even just by recovering naturally, just as you are. I don't make it a question of ethics. It's just photography, believe me. And photography is perfectly capable, if done well, of bringing out all the beauty present in a face. It may not be the beauty of high fashion standards or influencers, but it is still universally recognized that it is found in the traits of each of us, even before make-up. So try to photograph yourself before the hair and make-up; do several tests simply by exposing yourself to the photographic lens, without trying to tread your hand. You will be surprised at the beauty that you can bring out.
Good light
Good light is not just the wish that is made among photographers. It is also one of the basic ingredients of any type of photography: nature, landscape, fashion and even in selfies. Here the tricks are the ones I have already told you about in the past, that is: avoid overexposure to white lights (artificial) or to sunlight. Likewise, avoid being in the dark to avoid getting a blurry selfie. If the self-timer is done outdoors, prefer the lights of dawn (but it may not be easy) or of the sunset (easier for everyone) as they tend to burn less the subjects on which they rest.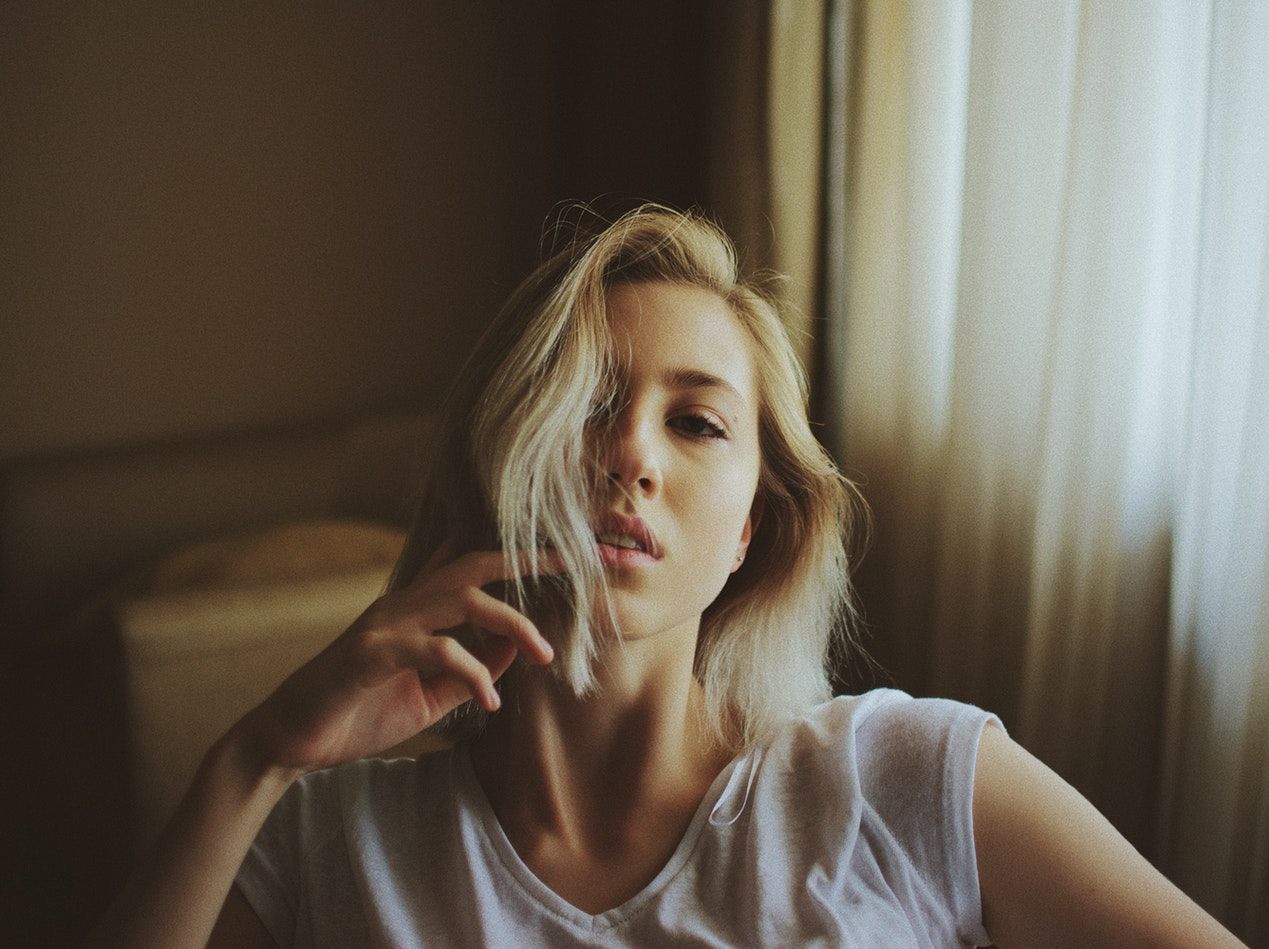 Background
The best backdrop for a selfie are two schools of thought. One that says neutral backgrounds like a white wall should be preferred. On the other hand, there are those who say that the background, being an integral part of the photo, must be taken care of and therefore, preferably, rich. In all honesty, I see myself more in the first school, but I realize more and more that this could be more of a generational mold. If, on the other hand, you like the idea of ​​giving a touch of originality to the background of your selfie as well, then I recommend using apps such as Facetune to set original ones in an artificial but creative way.