The Meteors
Dear readers of my blog, I confess: I fell "again" in love. No, I am not referring to a woman, but to a place that I happened to visit recently, and that literally bewitched me; the Meteors, in Greece.
I can't tell you if, due to a particular predisposition due to personal reasons, the fact is that the stay at the Meteora, due to the emotions, reflections and emotional impulses that it managed to suggest in me, was what is called "the right destination at the right time". But let's go in order.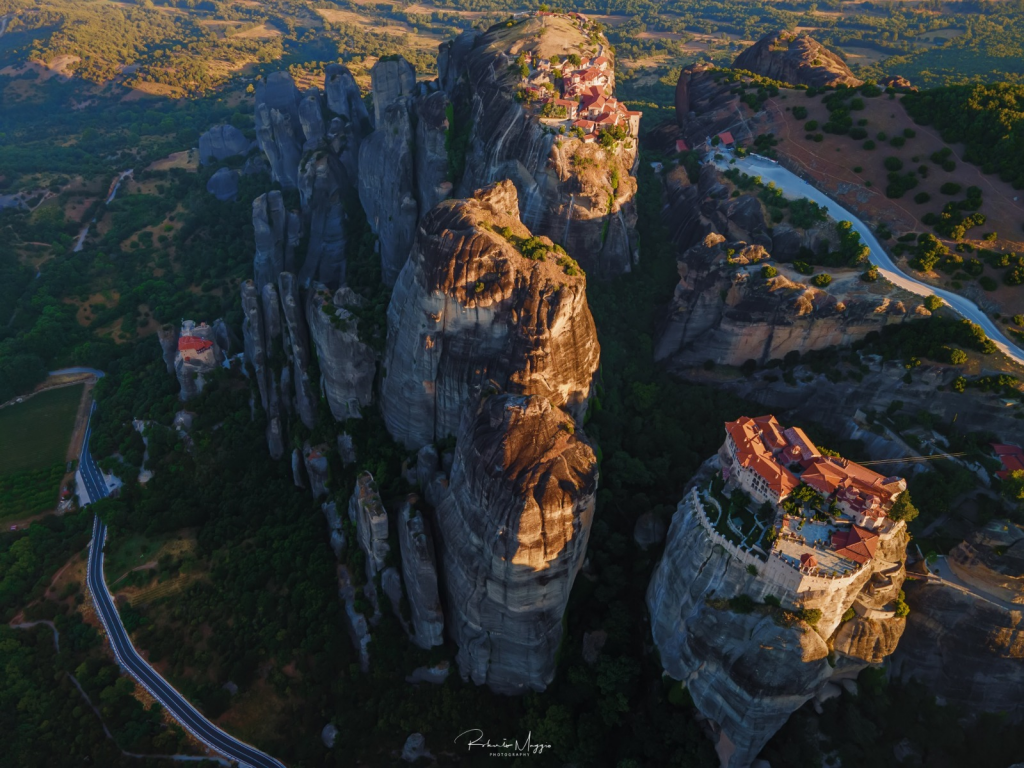 A bit of history
First of all, I like to tell you something more about the history of this place. "Meteor" (from the Greek "object suspended in the air") is nothing more than the term with which we refer to a series of Christian Orthodox monasteries that have developed near a small and homonymous town, Meteora, coincidentally (or maybe not) located right in the center of Greece, in the rocky heart of this extraordinary country rich in history.
A country that for me has always represented a "beginning" of something. This is where I started being an entrepreneur, and this is where I lived for 6 years. In short, a second home.
It is an absolutely unique area in the world, of its kind, and it is no coincidence that it has been declared a World Heritage Site by Unesco for some time. For those who have never seen them: let's imagine a series of hills, or more rightly they should be called cliffs, at the base of which a whole series of rivers once flowed.
Well, it seems that these waterways over time have gradually eroded the sandstone rock of these small rocky rises, transforming them from rolling hills to a series of large rock peaks, a sort of stacks planted here and there in the middle of the countryside.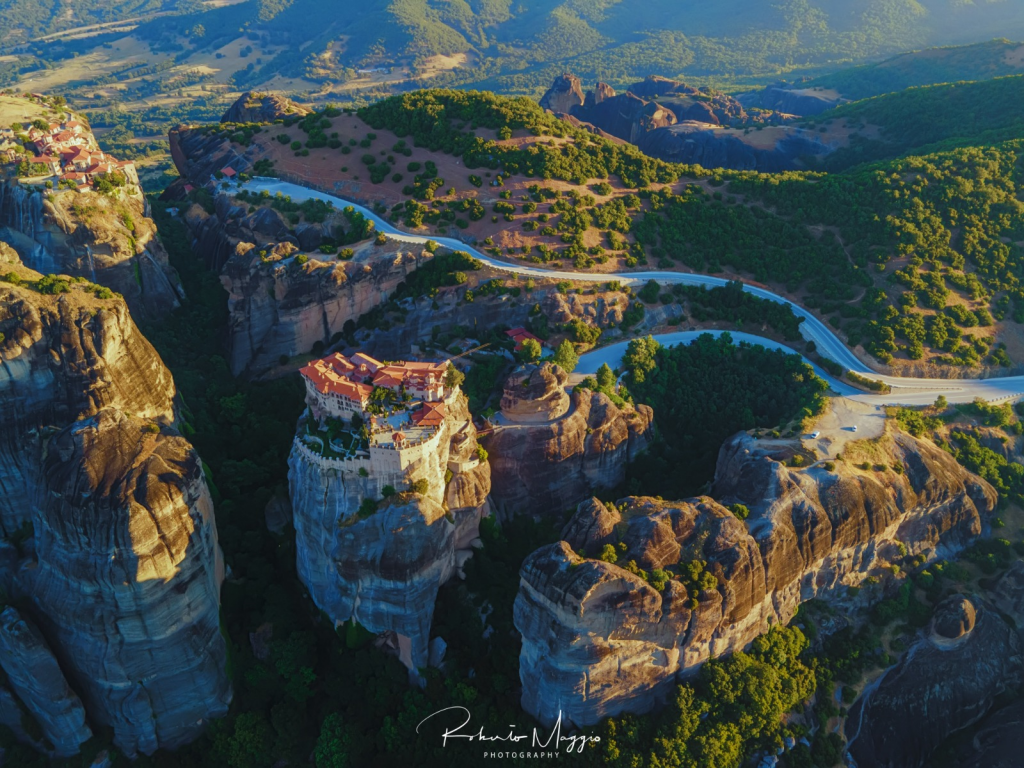 Charm and suggestions
A landscape that must have always generated a strong sense of suggestion in the populations who, perhaps due to the strange shape of these cliffs, have always given them a religious significance.
And so in the era in which Greece (but also Italy) was prey to the raids of the Turks, the local populations built monasteries, exactly 24, one for each of these hills, and strictly on top of them.
So far nothing exceptional were if not for the fact that, and my photos should testify to it, for each of these monasteries we can say that it was a huge, cyclopean job, also given the construction tools of the time (let's talk about the 14th century AD).
Here, while I was there, at the foot of these monasteries, even before appreciating their architectural beauty, I was influenced by the thought of these populations.
Populations that with great patience but, also with great courage, have had the strength to dedicate these stupendous constructions in honor of religion which, although it is a feeling that does not belong to me, is something that I still respect and that indeed I always tend to consider when I want to understand more of a people.
Unfortunately, partly due to natural disasters, partly due to neglect, today few of these monasteries are still inhabited or at least can be visited: Agios Stefanos, Aga, Varlaam, Roussanou and Agios Nikolaosia Triada, Gran Meteora.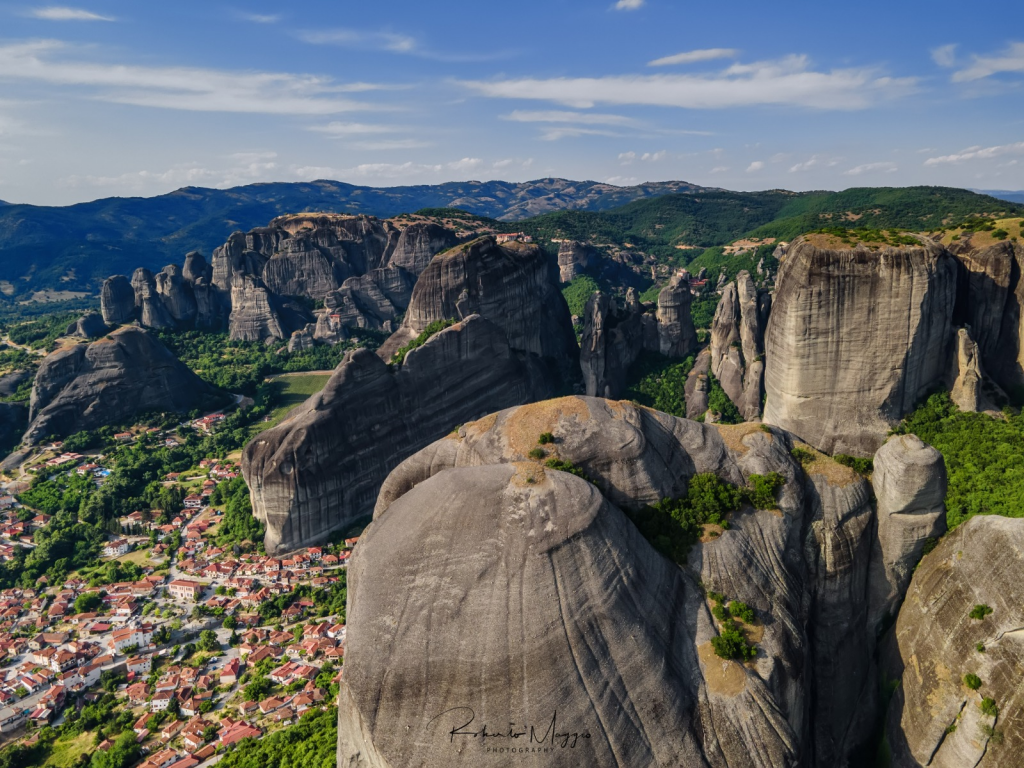 The six monasteries
If you pass by here I suggest you to carve out the right length of your stay in Meteora, to be able to visit them all, certainly starting from the main one, Gran Meteora. Think of it as a construction built on a rock over 500 meters high.
At the beginning there was only a chapel, founded by St. Athanasius, then everything has grown to become the monastery that you can see today valuable not only for its architectural ideas but also for the frescoes of the fourteenth and fifteenth centuries here preserved.
In short, if you happen to be there, get lost among the Meteors and, just as it happened to me, let these magical places inspire you, and suggest, with their strength and their history, the answers you are looking for.
I do not make it a religious question, attention, but a question of "art"; here at Meteore, as in few other places among the many that I have been lucky enough to visit in my life, art has been able to be a "welcoming mother" and an "encouraging friend", at a time when perhaps I had more need.
See you soon Meteors!
As mentioned before, however, in order for this magical effect to have an effect you must have the courage to let yourself be influenced by this landscape.
A landscape that, for what it has been able to give me, ends up right on my travel blog.
And speaking of landscape photography: here at Meteora I was able to use a drone similar to the one I told you about in this post.
It was absolutely necessary to be able to shoot these mammoth subjects from the right distance and not just do the usual foot-to-top and top-to-foot shots.
What can I say: I go home with the Meteors much "richer" than I started with.
Not only with a thousand photos to develop but with new answers and awareness that I needed. Thanks magical place! I think we will meet again soon.