SQUID GAME
45.6 billion of won, or about 33 million euros. This is the prize pool of Squid Game, the TV series of the moment, brought to success by Netflix, and capable of collecting over 130 million views around the world in less than a month.
A virtual prize pool of course, which the unfortunate protagonists of this series aspire to. Penniless South Koreans who find an opportunity to revenge their lives of hardships and failures in a survival game, which through various tests, increasingly complex, aims to eliminate all the competitors one after the other until there is only one left, the winner.
All this in just 9 episodes, few, but really capable of nailing the public of half the world to the sofa, making Squid Game the cult series of the moment.
I HAVE SEEN IT ALSO
Me too, from what you may have guessed, was no exception and, remote control in hand, I followed the various episodes, remaining more and more impressed and intrigued until the final resolution that is certainly not my intention to spoil here.
But as I did previously with my post dedicated to the "Queen of Chess", this time too I don't want to use my blog for film reviews that don't interest me and for which I don't feel I have the right skills.
What interests me here to comment with you is photography which, once again, together with the plot and the undeniable skill of the cast, is proving to be the keystone of Netfflix's successes.
Consider for example this image.
It is an image of imposing drama. It shows some guards (assigned to the role of game controllers) deployed inside their command center. There is no natural light in this photo but only that of some anxious neon lights on the ceiling which then illuminate the equally anxious faces of the guards.
They are particular faces, actually covered by a mask that marks a mental abortion as going to hide the face closes the possibility of establishing any empathic relationship between guards and competitors.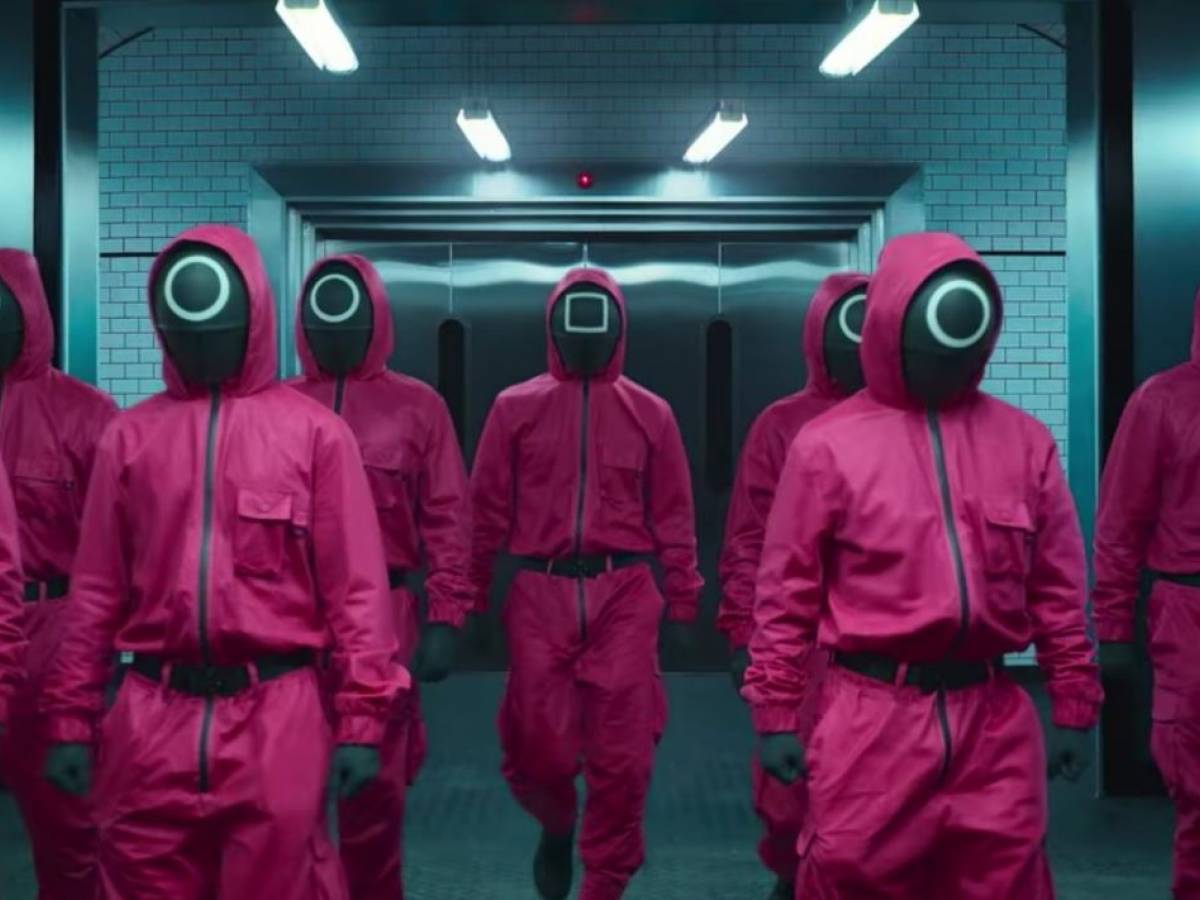 WHAT ANXIETY!
Even in the outdoor scenes like the one you see below, that sense of drama of the moment is always emphasized, which leaves no room for any sense of optimism or a completely playful interpretation of what is happening.
Because there is actually nothing playful. Squid Game is a death game. A game where the more people die the more the prize pool increases. A perverse mechanism that ensures that every dead competitor is seen not only as one less opponent to fight but also as a further enrichment of the final prize pool.
And then there are the references to the images of infanacy. Like the one you see here.
It is not a game booster though. Rather, they are reminiscent of scenes such as those in horror films such as "The Killer Doll" or "Chucky", films in which childhood objects,